ETEM Ε –45 OPENED SYSTEMS
E-45 is one of the best opening new generation systems of innovative design and excellent thermal and sound insulating properties. One of this system's special characteristics  is the ability to construct an opening embrasure  by using the profile "hidden" worksheet.
---
Ε-52 TOWED SYSTEMS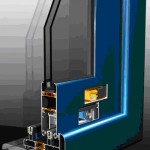 Ε-52 is one of the newest innovatively designed sliding systems that has excellent thermal and sound insulating properties. The ergonomic profile design and the variety of cut-profile let us  give solutions for every construction need.
E-45 & Ε-52 are the only greek systems that have the "wk2" certification.
*Wk2 certification is related to the embrasure's resistance in case that someone tries to force it by using hand tools.
Benefits:
excellent thermal insulation and water – tight in case of extreme weather conditions.
reduce of sound-pollution in urban areas.
solution for every construction need.
best aesthetic result in straight and curved line.
· value for money.
client can choose between electrostatic  paint  of any colour RAL, special paints that give the colour of wood and also other surface treatments- anodising.
---
ALUMIL M 11000 Alutherm Plus

M 11000 Alutherm Plus is a tested and reliable opening system, designed and constructed in order to meet a widw variety of applications.
It is certified for its high thermal and sound insulation properties, it is air-tight and also offers a high level of protection.
The special profile design makes it function whatever the opening of the door is and suits well to residences as well to business/office spaces.  It also offers a great variety of choices on how the client prefers it to look (minimal, modern, new-classic, traditional, inox) and is available with a round multiple locking mechanism (multiple points).
---
Μ20000 Apollo Alutherm & Μ20500 Apollo

The high security level is the main characteristic of the Μ 20000 Apollo Alutherm series that is available in a simple edition (M 20500 Apollo) and a thermal-break one.
This system satisfies the highest security and safety demands as it has an integrated mechanism of steel, which  gives us the round locking of the embrasure in many points.
This series' design is wholly based on the tested and certified  technology of  M 11000 Alutherm Plus
The high level of security is the characteristic M-Series 20000 Apollo Alutherm which is available in single (M 20500 Apollo) and a thermal break.
---
M9650 Alutherm

This series is an economic solution to thermal-break systems. It is certified by the german institute IFT Rosenheim and offers basic thermal-insulation. It can be combined, without  causing an optical disharmony, in the same building with series Μ 11000 Alutherm Plus, as they have the same characteristics and are of the same design.
---
Μ300 Falcon Alutherm

Τhe upright sliding system Μ 300 Falcon Alutherm consists of a special solution for the coverage of wide openings. This system is extremely firm and gives the opportunity to have different colours on the two sides of the frames
---
Μ12000 Premier & S400 Premier Alutherm
Based on the successful M12000 Premier series, S400 Premier Alutherm is the last one's thermal insulating edition. S400 is ALUMIL's technologically advanced proposition in the category of sliding embrasures.
With an elliptic design form, it offers a wide variety of aesthetic choices and typologies.

Some of its great features are the reinforced rollers which offer smooth sliding of the embrasures as well as the multi-point lock.
---
Μ14000 Deluxe

It is ALUMIL's most elegant solution and offers a wide variety of types and designs.
One of its special features is the specially designed striped dashboard, which emphasizes the linearity of the panel and the lock of one or multiple points
---
S300

S 300 Deluxe Alutherm system is based on the features of the Μ 14000 Deluxe series and consists its thermal insulation edition. It is a really elegant solution that ALUMIL offers with main characteristics its stainless rolling guide, the ability to be straight cut and its linear aesthetics.
---
Μ9400 softline

Μ9400  system is the most dominant and popular aluminum system whose special feature is the great construction diversity.